Visit Izumo Taisha Grand Shrine , known for forming good relationships, and spend a blissful time taking in the specialties of Izumo.
Historic shrines are located all over Izumo City in Shimane Prefecture. At its heart is Izumo Oyashiro Grand Shrine (also known as Izumo Taisha), the construction of which is recorded in Japan's oldest history book, the Kojiki,completed in 712.
Pass through the entrance to the shrine precinct, the Seidamari-no-Otori gate, and you will find the road to the main shrine extending straight in front of you. The shrine road, with huge, lush trees, creates a dignified atmosphere, and as you walk the nature here gives a sense of tension. After cleansing your hands and mouth at the temizusha, a place for ritual cleansing, head to the Haiden (Worship Hall), adorned with a huge, impressive shimenawa (rope). Pay homage in the Izumo Taisha Grand Shrine method: bow twice, clap four times, and end with a final bow, and then head over to the Main Shrine, a National Treasure, dedicated to Okuninushi no Okami, who is worshipped as the god of relationships. This majestic building is the largest of its kind in Japan, and the oldest architectural style of a Shinto shrine, overflowing with a solemn atmosphere that touches the hearts of visitors.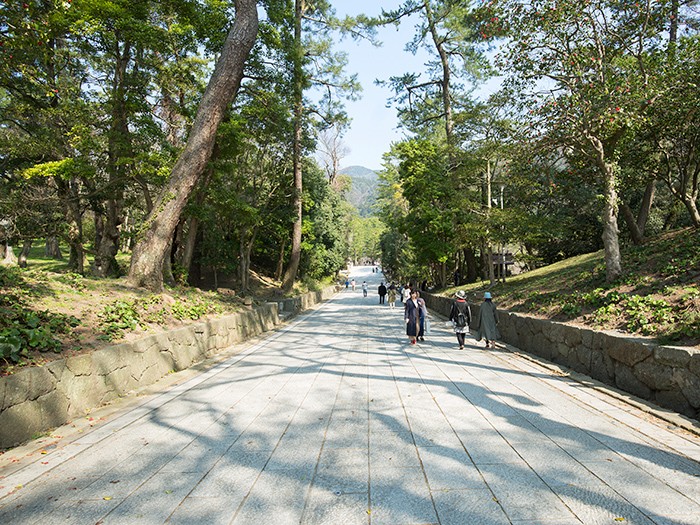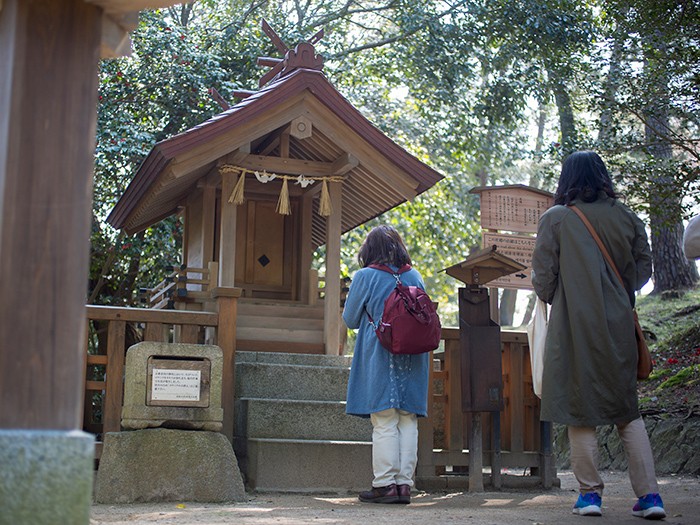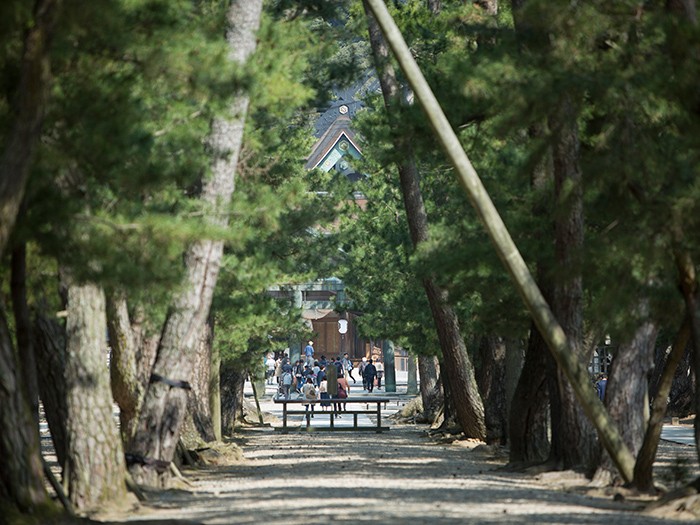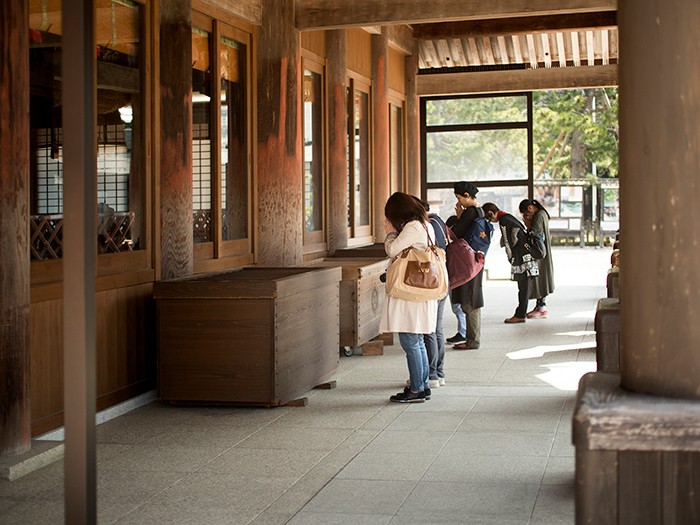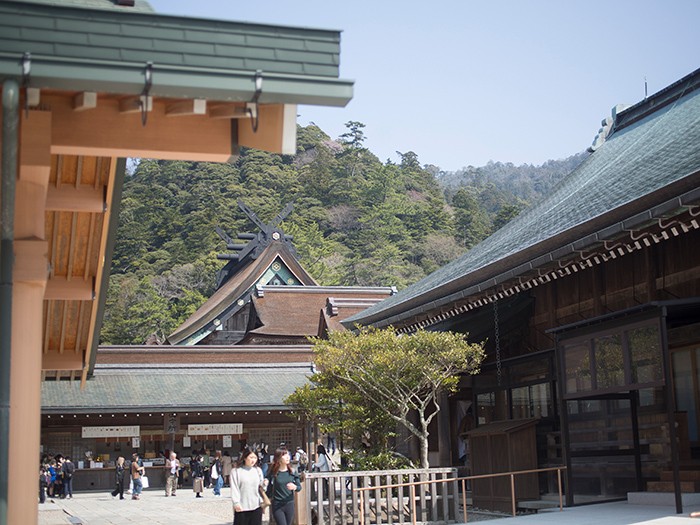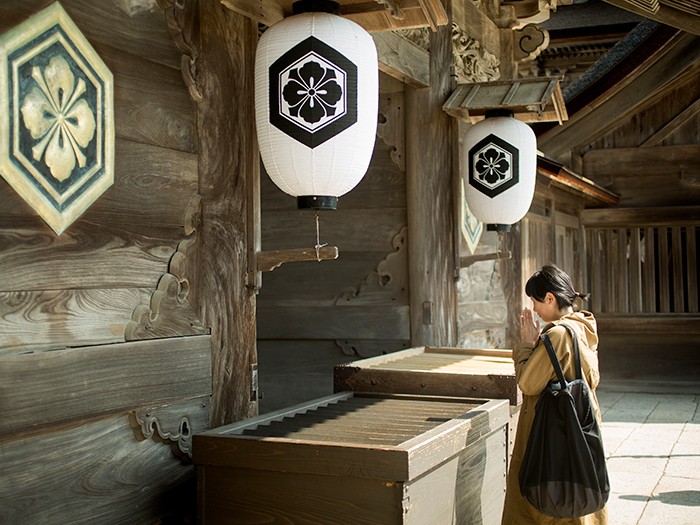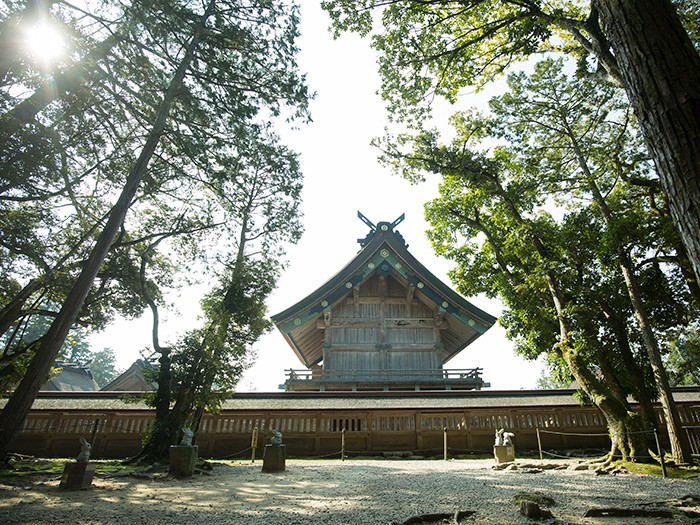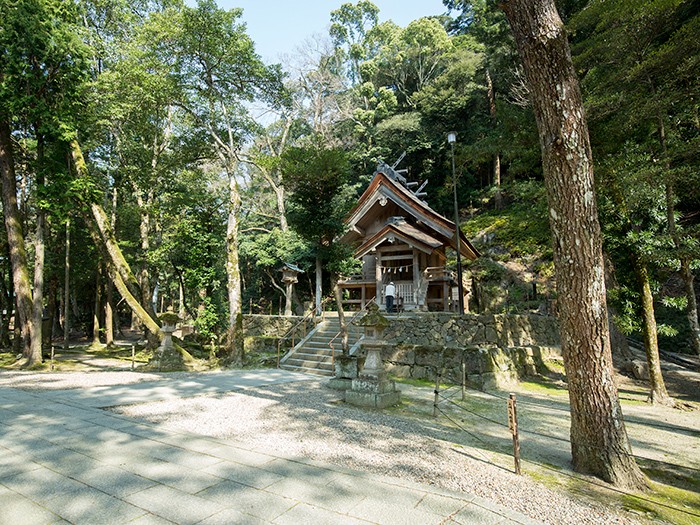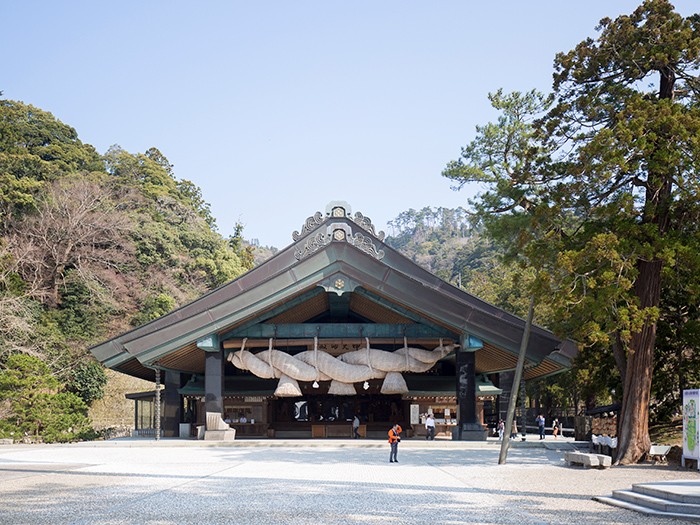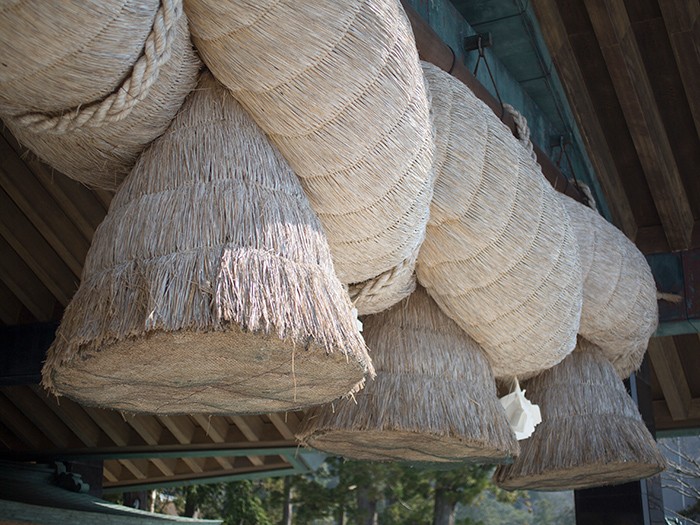 After visiting the shrine, take a walk down Shinmon Dori Street. You can take a break at the Izumo Taisha STARBUCKS COFFEE, while looking out at the Seidamari-no-Otori gate. Look out for the design and interior unique to the Izumo Taisha store, with lighting that uses the shrine's shimenawa as a motif, the ceiling that evokes a gabled roof, and the shared table in the shape of a magatama, a comma-shaped bead.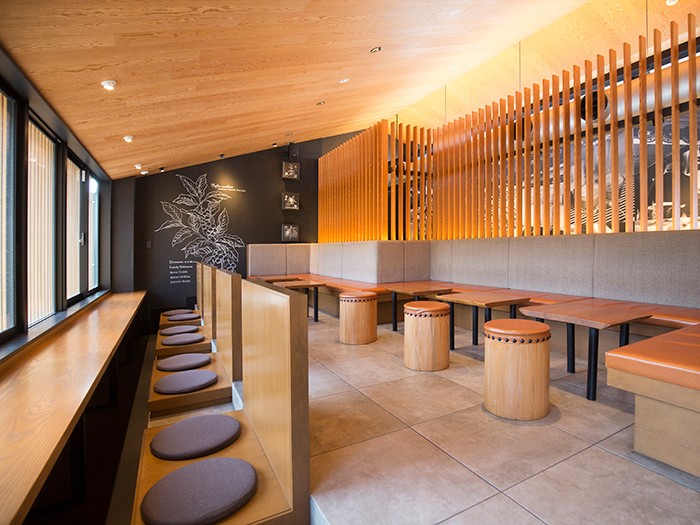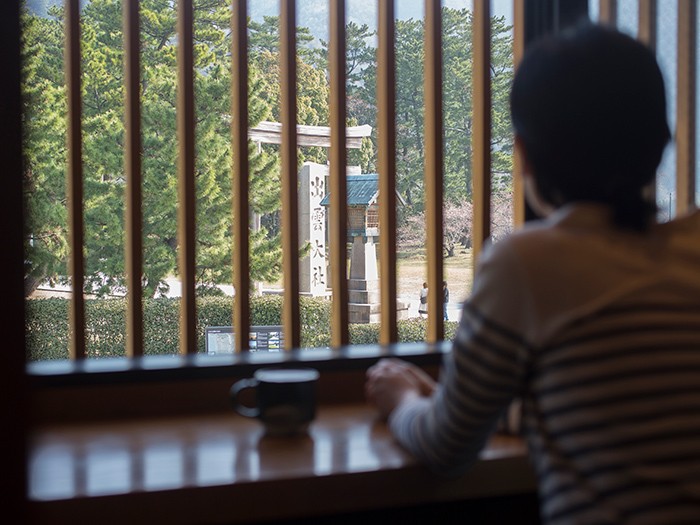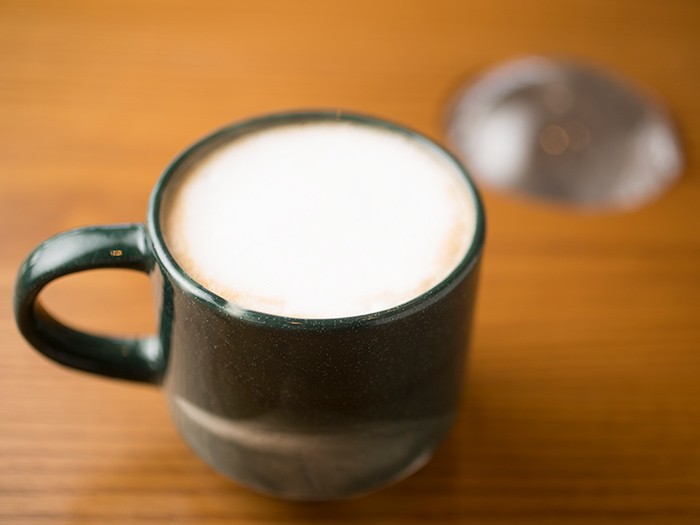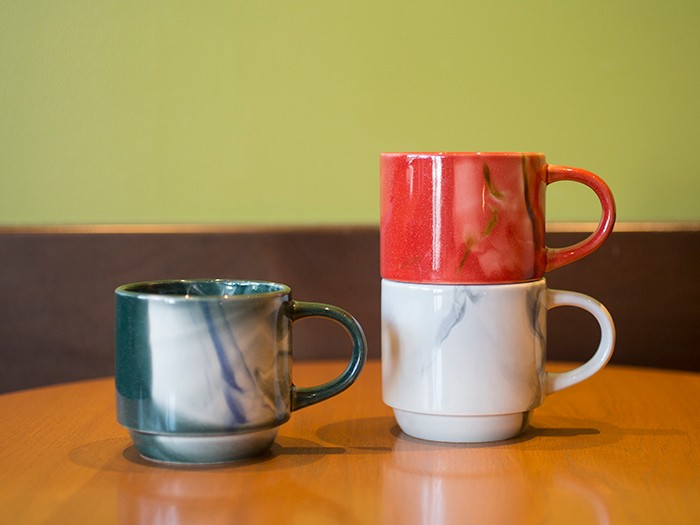 Esuko offers a rich array of special products from Shimane Prefecture and limited goods with a rabbit motif, which appears in the myths as a symbol of relationships. Here, the accessory-making experience, where you choose the natural stones that you like and create an original accessory (from 1000 yen, reservations are given priority), is popular. A hand-made item that you have put your heart into makes a special souvenir from your trip to Izumo.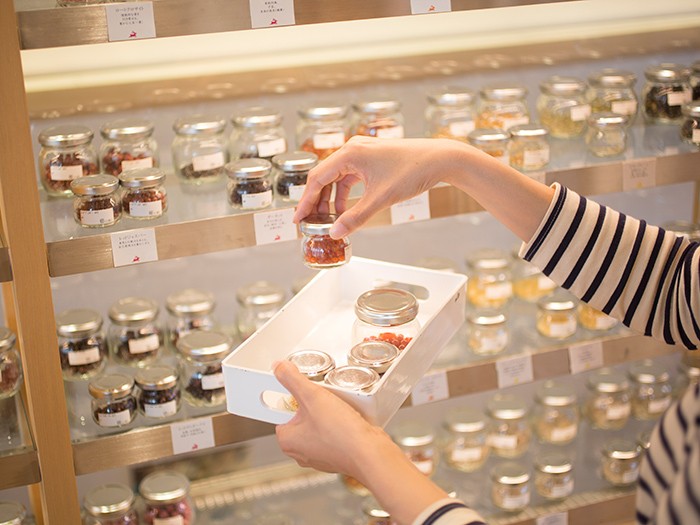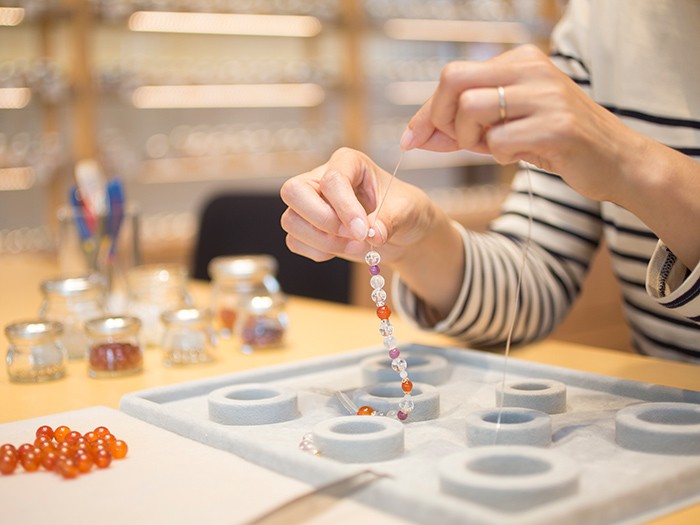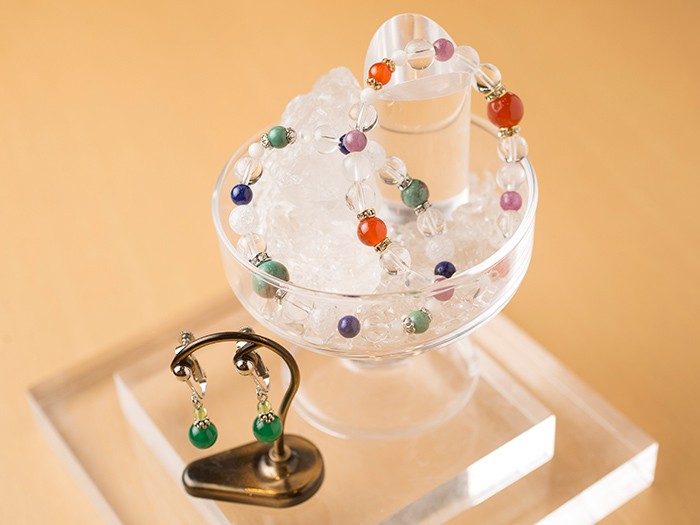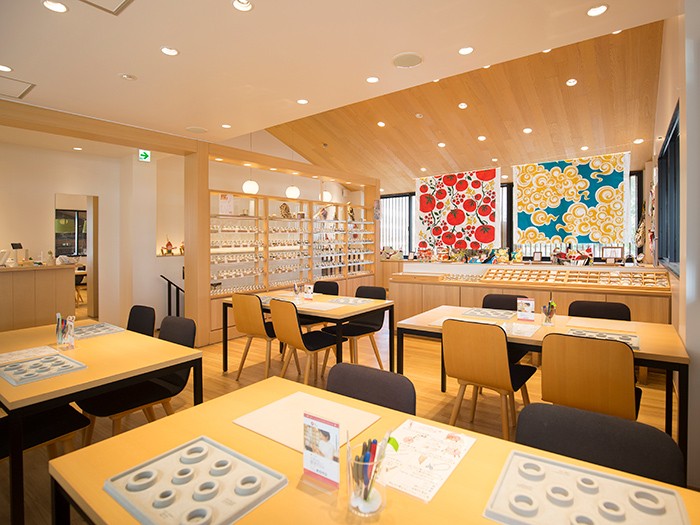 If you get hungry when you're walking around, head to one of the well-established shops that sells the specialty Izumo soba.Izumo soba is a variety of traditional Japanese soba noodle and regional specialty enjoyed since olden times by travelers worshipping at Izumo-taisha Shrine. Araki-ya, founded 230 years ago, is the oldest Izumo soba house in Japan. The famous "warigo-sandai soba" (triple-layer Warigo soba) can be sampled for 1090 yen in this atmospheric place. The chilled noodles and heaped on three deep red lacquerware round bowls assembled in a tower. The top bowl contains soba with egg, the middle bowl soba with grated mountain yam, and lowest bowl simply soba. Simply add soy-based sauce (tsuyu) and condiments such as spice, green onion and roasted seaweed to taste. Izumo soba is distinguished by its dark color and strong flavor, derived from the process of buckwheat and outer husk being ground together using a millstone. The noodles are an excellent match for a sweeter tsuyu using a thick dashi and soy sauce. It is a nifty way to enjoy slurping up the silky noodles. You must try this unique aspect of Japan's food culture for yourself. Once you have finished the noodles, consider pouring some of the broth leftover from cooking the soba (sobayu) into your leftover tsuyu. "Basking in the afterglow" in this way is one of the joys of soba.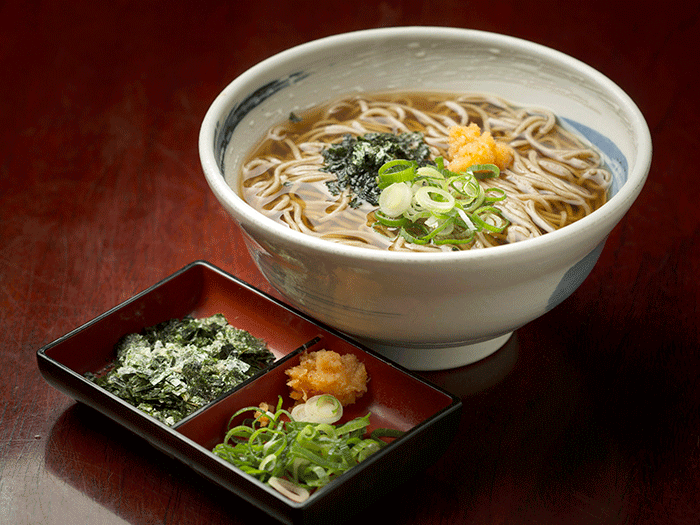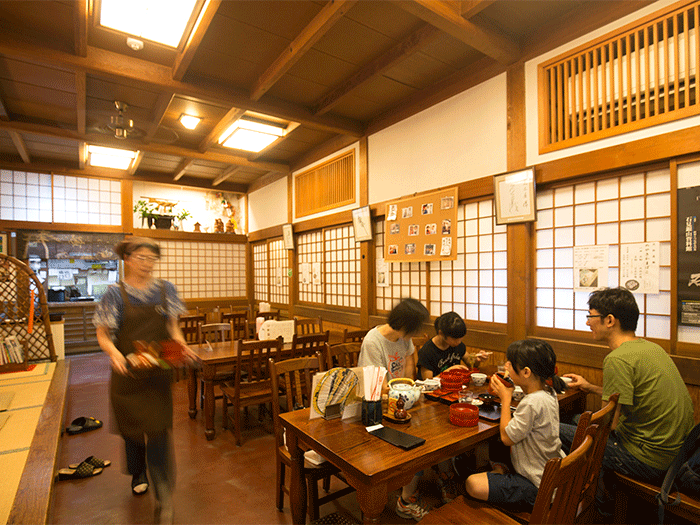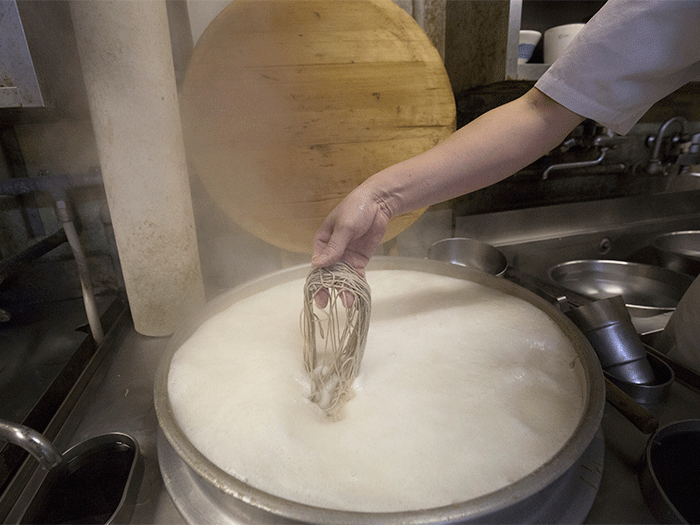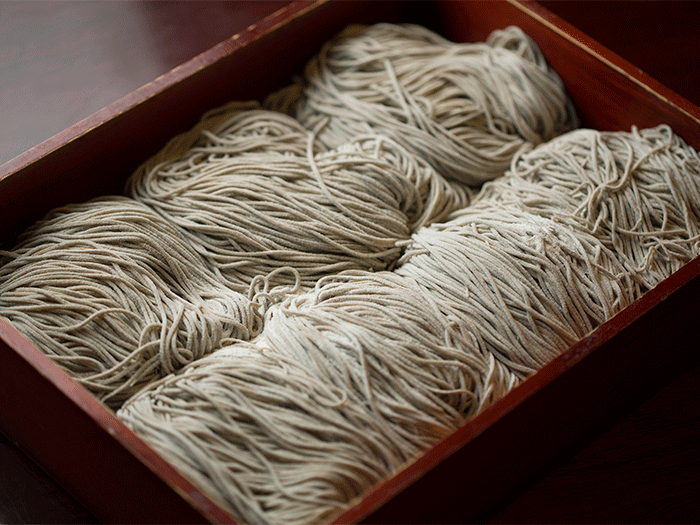 Izumo Oyashiro
Address

195 Kizukihigashi, Taisha-cho, Izumo City, Shimane [Map]

TEL

+81-853-53-3100

Open

8:30-17:00

Access

About 25 minutes' ride on the Ichibata Bus to Izumo Oyashiro (Izumo Taisha)/Hinomisaki/Uryu from JR Izumoshi Station. Near the Izumo Taisha Seimon-mae.
About 20 minutes' drive from the Izumo IC on the San'in Expressway.

URL
STARBUCKS COFFEE Izumo Taisha Store
Address

841 Kizukiminami, Taisha-cho, Izumo City, Shimane [Map]

TEL

+81-853-53-8812

Open

8:30-18:30

Closed

Irregular closing days

Seats

53

Credit card

Accepted

Access

About 25 minutes' ride on the Ichibata Bus to Izumo Oyashiro (Izumo Taisha)/Hinomisaki/Uryu from JR Izumoshi Station. Near the Izumo Taisha Seimon-mae.
About 20 minutes' drive from the Izumo IC on the San'in Expressway.

URL
The Country of Enmusubi Esuko
Address

841 Kizukiminami, Taisha-cho, Izumo City, Shimane [Map]

TEL

+81-853-31-4035

Open

9:00-17:00 *Subject to change depending on the time of year

Closed

Non

Credit card

Accepted

Access

About 25 minutes' ride on the Ichibata Bus to Izumo Oyashiro (Izumo Taisha)/Hinomisaki/Uryu from JR Izumoshi Station. Near the Izumo Taisha Seimon-mae.
About 20 minutes' drive from the Izumo IC on the San'in Expressway.

URL
Izumo soba Araki-ya
Adress

409-2 Kizuki-higashi, Taisha-cho, Izumo City, Shimane [Map]

TEL

+81-853-53-2352

Open

11:00-17:00 * Or when sold out

Closed

Wednesdays (or following day in case public holiday falls on Wednesday)

Seats

64

Parking

20

Acsess

10 minutes' walk from Izumotaishamae Station, Ichibata Electric Railway

Credit card

not accepted
(This information is as of December 2017)