The famous 1000-year-old towering Daigo-Zakura tree (Okayama)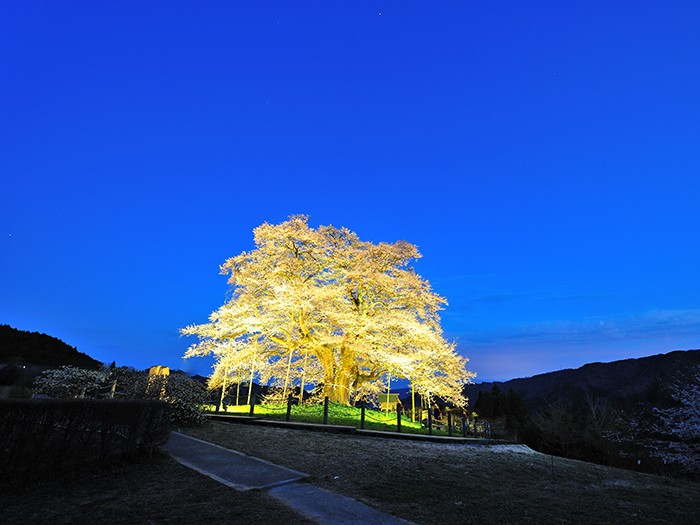 Among the mountain villages and untouched nature of northern Okayama prefecture is a solitary cherry blossom tree that towers high toward the sky. Standing 18m tall and spanning 20m across, this superb and ancient tree is estimated to be around 1000 years old. The story goes that it was named after the Japanese Emperor Go-Daigo, who admired the tree in 1332 while on his way to Oki island where he was exiled. When it is illuminated at night, the Daigo-Zaukra looks both majestic and somewhat melancholy. Refreshments and local specialities are also available at the rest area nearby during the in-bloom season. Be sure to take a look at the beautiful Gaisen-Zakura tree that is also in Maniwa city.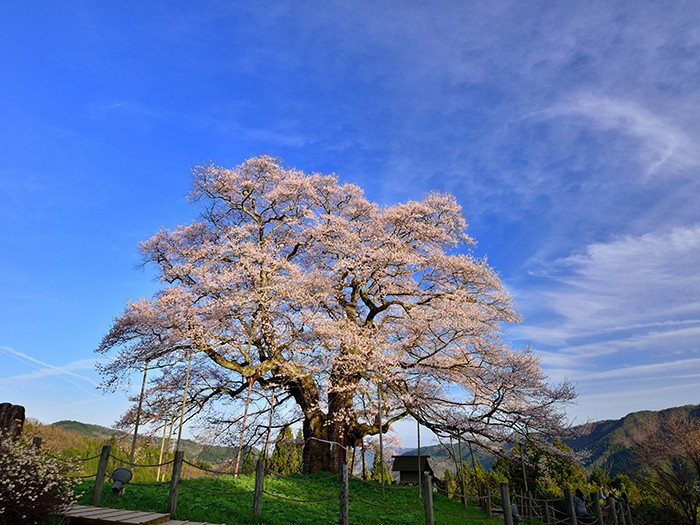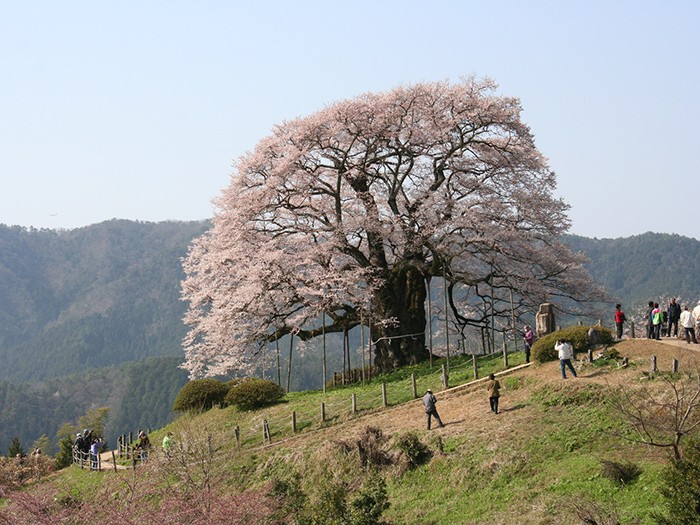 Daigo-Zakura
Address

2277 Bessho, Maniwa City, Okayama [Map]

Cherry blossom

One tree

Full bloom

Early-to-mid April

Light up

When more than half of the tree is in bloom, from sunset to 21:00

Parking

200 cars (300-500 yen)

Access

Approx. 40 minutes by taxi from JR Mimasaka-Ochiai Station *Please note there are traffic jams during the in-bloom season. It's better to climb to the top from the foot of the hill (takes around 40 minutes).

Contact

Maniwa City Ochiai Promotion Bureau

TEL

+81-867-52-1111 

URL

Remarks

*A live camera shows footage of the Daigo-Zakura bloom status
An old but still brilliantly blooming 21-meter-tall Hyotan-Zakura cherry blossom tree (Kochi)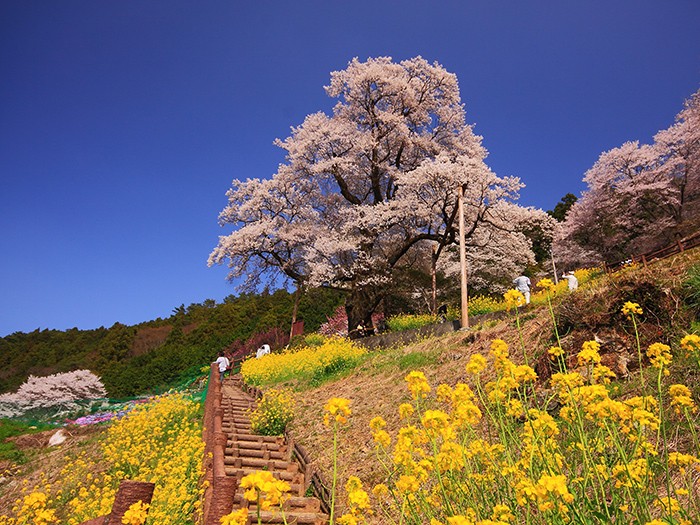 The 500-year-old Hyotan-Zakura cherry blossom tree is named after its gourd-shaped buds. Affectionately called "Gion-sama" by locals in reference to Genba Osaki who pioneered the land where the tree stands and built a Gion Shrine for worship there, the tree has been treasured by the people since it was planted. Over the years the Hyotan-Zakura tree has withstood wind and snow to soar 21 meters high, supported by a 6-meter circumference trunk and supple branches that spread out and bloom with gorgeous cherry blossoms. The tree strikes a majestic figure as it stands dignified in a field of rape flowers. Stalls selling the area's special cherry blossom jelly, refreshments, locally produced pomelo citrus fruit and other items are set up nearby for visitors to enjoy.
Hyotan-Zakura
Address

Sakura, Niyodogawa-cho, Agawa-gun, Kochi [Map]

Cherry blossom

One tree

Full bloom

Early April

Parking

Approx. 70 cars

Access

Around 30 minutes by route bus from JR Sakawa Station to Tosa Osaki bus stop, after which it is about a one-hour walk or 10-minute taxi ride.

Contact

Niyodogawa Town Industry & Construction Section

TEL

+81-889-35-1083

URL
(This information is as of March 2018)