Reminiscent of Japan's olden times under the falling petals of cherry blossom trees on the Hii River banks (Shimane)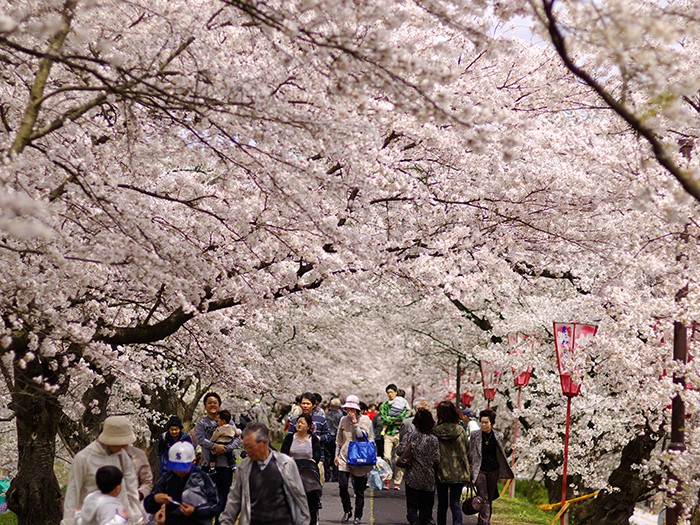 The Hii River is deeply connected with the legend of a eight-headed and eight-tailed serpent that is written in Japan's oldest history book, Kojiki (Record of Ancient Matters). The river's sandbank resembles the serpent's scales, and its course twists and turns like a slowly slithering serpent. JR Kisuki Station is located roughly midstream of the river, and in front of the station are rows of 800 cherry blossom trees stretching for about 2km across both banks of the Hii River. A dedicated cherry blossom guardian lovingly looks after the flowers to make sure they look their best. As you pass through the sakura tunnel, you can get a glimpse of the magnificent mountains of the Chugoku region towering in the distance. Each year in early April, a festival is held on the weekends featuring local entertainment and special regional products for sale.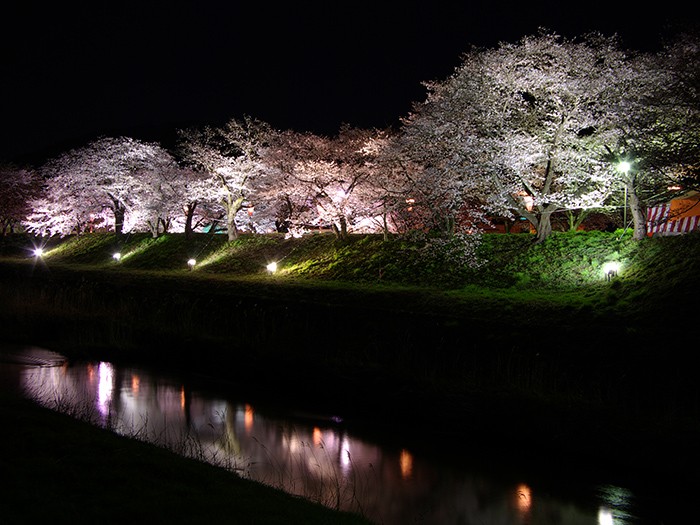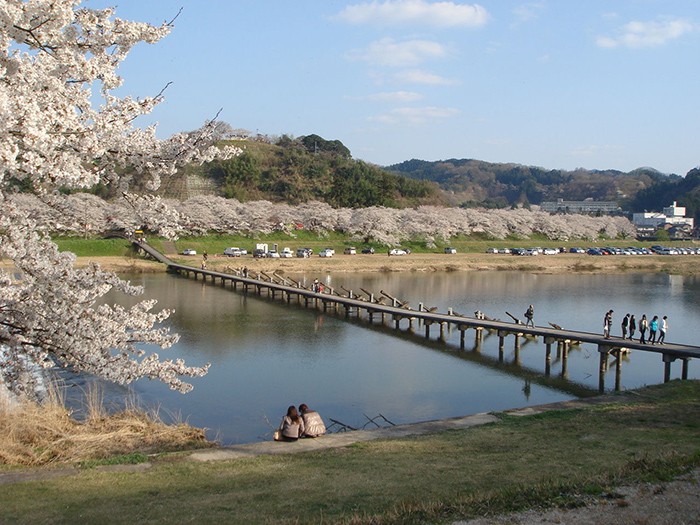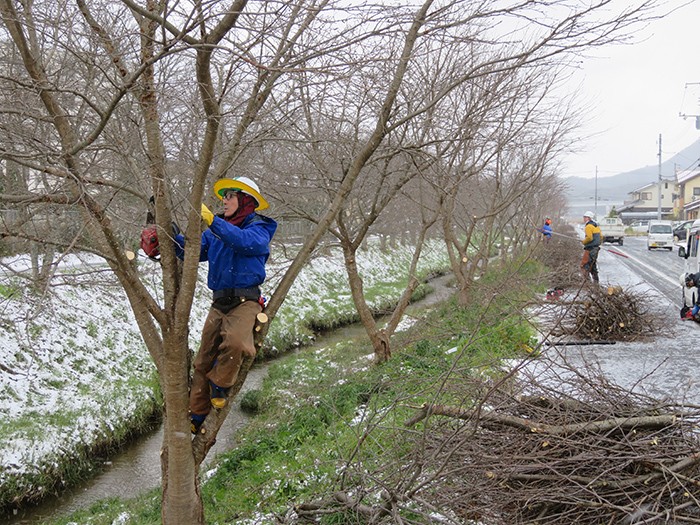 Row of cherry blossom trees on the Hii River banks
Address

Kisuki, Kisuki-cho, Unnan City, Shimane [Map]

Cherry blossom

Approx. 800 trees

Full bloom

Early-to-mid April

Light up

Early-to-mid April, from sunset to 23:00 (scheduled)

Parking

1200 cars

Access

About 5 minutes' walk from JR Kisuki Station

Contact

Unnan City Tourism Promotion Section

TEL

+81-854-40-1054

URL
Be enveloped in the fragrance and colors of cherry blossoms while enjoying views of the clear waters at Ibarazutsumi (bank of Oda river) (Okayama)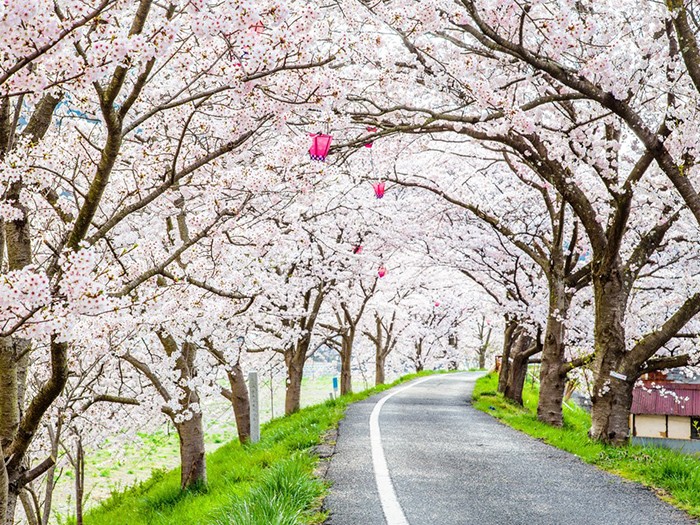 Ibara City in Okayama Prefecture is blessed with a warm climate and abundant water; it's also known as a holy land for denim, which has gained it the attention of some of the world's top brands. The Oda River is an important source of water used to produce high-quality denim fabric, as well as being a famous place of scenic beauty that attracts locals and tourists alike. The row of cherry blossom trees that stretches for around 2km is a particularly stunning scene to behold in the spring. When illuminated at night with paper lanterns, the pale pink sakura reflected in the river's surface creates a mystical atmosphere. You can also buy some local denim to take back with you at the store in Ibara Station on the Ibara Line.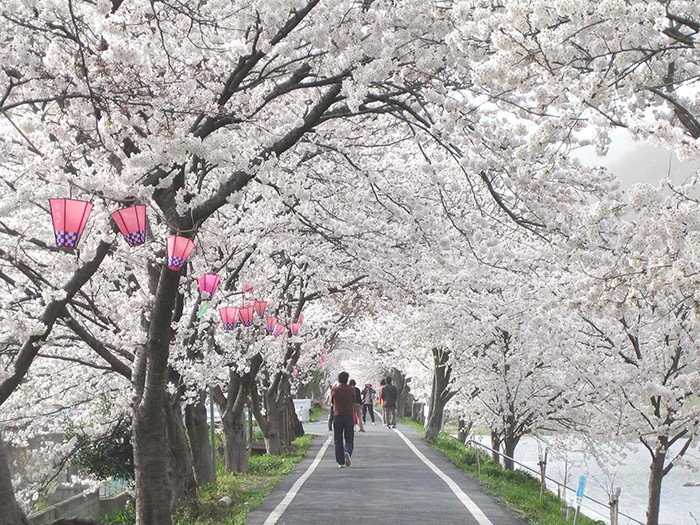 Ibarazutsumi (bank of Oda river)
Address

Area near 3616 Ibara-cho, Ibara City, Okayama [Map]

Cherry blossom

Approx. 800 trees

Full bloom

From late March to early April

Light up

From middle of March to early April, 18:30-22:00

Parking

200 cars

Access

From Ibara Station on the Ibara Line, take the Ibara Aiai Bus Ibara City Town Loop Route for around 10 minutes. Get off at the Toshokan (Library) bus stop and walk for around 5 minutes.

Contact

Ibara Tourist Association

TEL

+81-866-62-8850

URL
Marvel at the cherry blossoms at Yaoyorozu-no-Kami-no-Goten covering the mountainside in pale pink (Tokushima)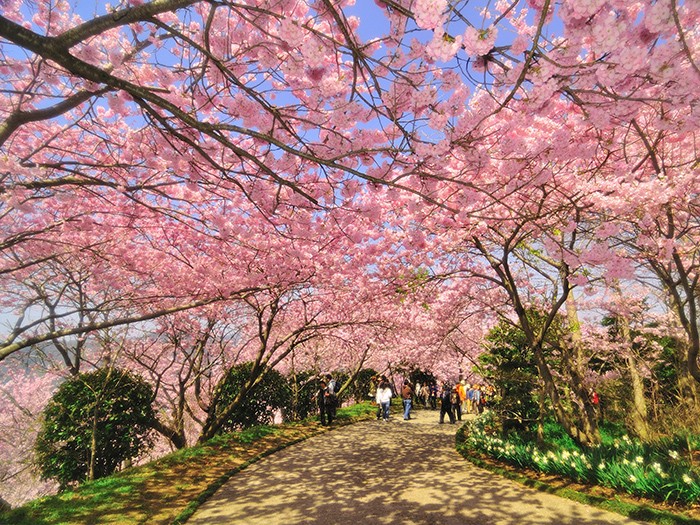 Located on the top of a roughly 400m mountain is the shrine Yaoyorozu-no-Kami-no-Goten. Around 8000 cherry blossom trees cover the mountainside, creating a tunnel of sakura leading to the summit. Steadily make your way up the mountain and through the fragrant pink petals toward the summit, and once you reach it, a truly breathtaking view of the mountain covered in cherry blossoms opens out before your eyes. You may even lose track of time with this mesmerizing scenery. Nearby is the popular sightseeing spot Udatsu Town, which is a picturesque street of traditional houses and stores found in jokamachi (castle towns) during the Edo period. It's only about a 10-minute drive from the mountain, so you can enjoy both tourist attractions on the same day.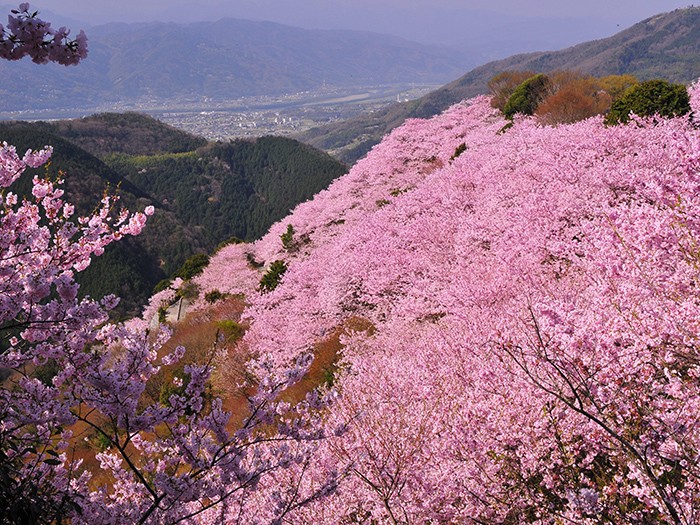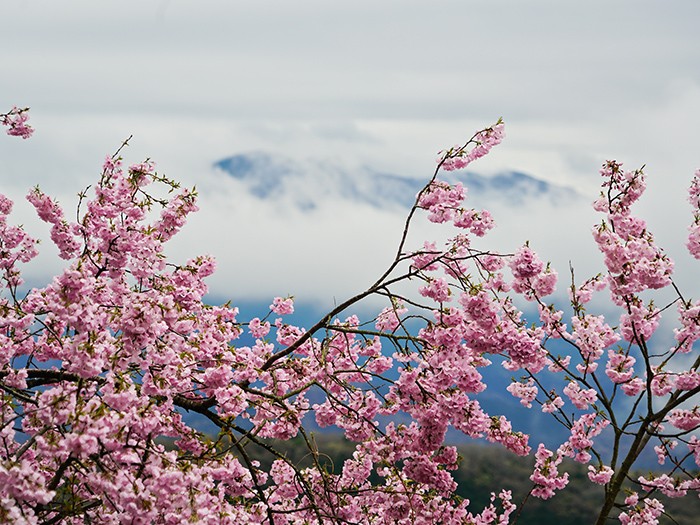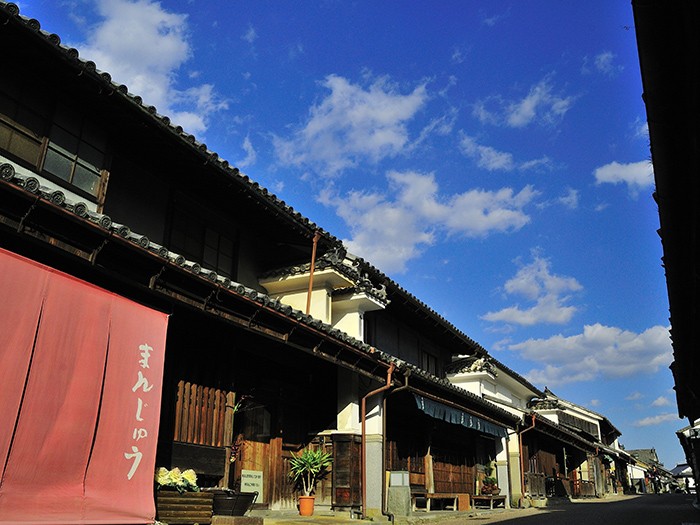 Cherry Blossoms at Yaoyorozu-no-Kami-no-Goten
Address

1701-2 Higashi-Akatanimyo, Waki-machi, Mima City, Tokushima [Map]

Open

8:00-18:00

Closed

None

Price

1000 yen for elementary school students and older *No eating or drinking permitted on the grounds

Credit card

Not accepted

Cherry blossom

Approx. 8000 trees

Full bloom

From early-to-mid April

Light up

None

Parking

20 cars

Access

About 15 minutes by car from JR Anabuki Station

Contact

Yaoyorozu-no-Kami-no-Goten

TEL

+81-883-53-6072

URL
(This information is as of March 2018)