Take a leisurely riverside stroll where cherry blossoms flutter in the breeze at the Asahi River Cherry Blossom Road (Okayama)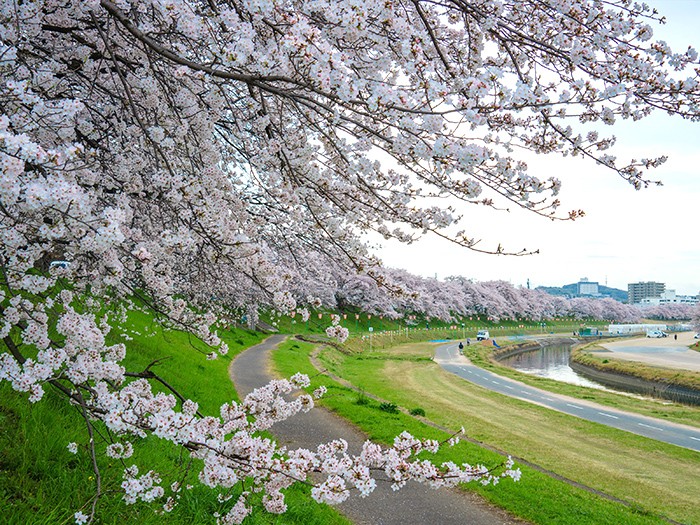 Calmly flowing through Okayama City is the Asahi River, alongside which runs an approximately 1.3km row of cherry blossom trees stretching across the eastern bank of one of Japan's top three gardens, the Okayama Korakuen Garden. The cherry blossom trees and serene river flowing under blue skies harmoniously blend into a beautiful scenery. Each year when the cherry blossoms are in bloom, the Okayama Sakura Carnival is held at the Asahi River; here both locals and visitors can enjoy sampling an array of local delicacies such as Horumon Udon (udon nooodles with cow or pig offals), burgers from Bizen Town, and a selection of local beers sold at the various food and drink stalls. Once the sun sets the sakura are illuminated, so you can also take a leisurely stroll along the river and gaze up at the row of cherry blossom trees twinkling in the twilight sky.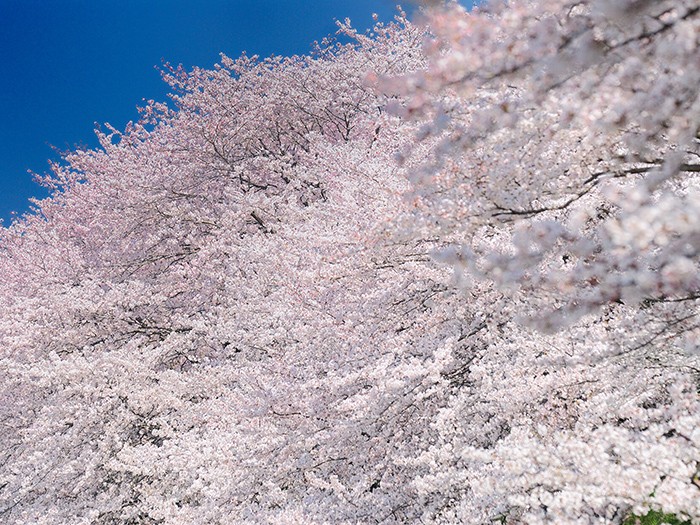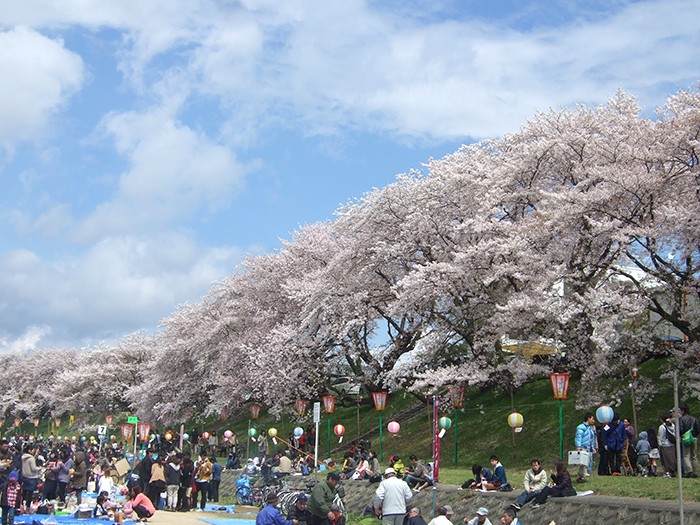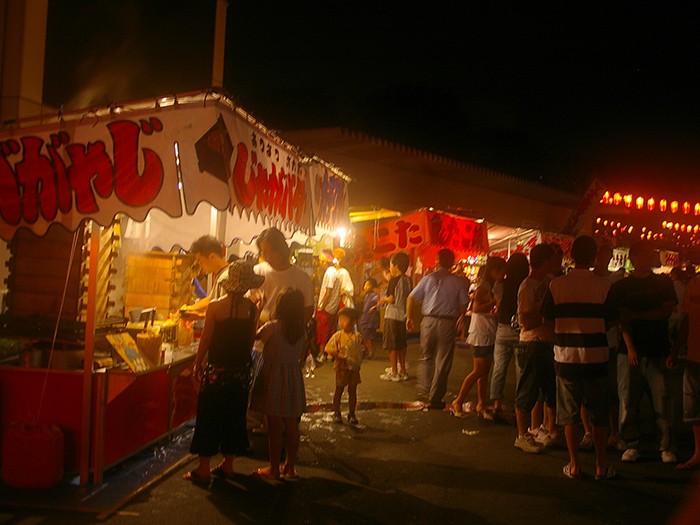 Asahi River Sakura Road
Address

Bank of the Asahi River, Okayama City, Okayama Prefecture [Map]

Cherry blossom

Approx. 200 trees

Full bloom

Early April

Light up

Sakura Carnival period from sunset to 21:00

Parking

None

Access

Take the city bus from JR Okayama Station and get off at the Korakuen Mae stop; it's right there. You can also take the street car from JR Okayama Station bound for Higashiyama, and get off at the Jyouka (Castle) stop and walk for around 10 minutes.

Contact

Okayama Sakura Carnival Steering Committee Executive Office (Sanyo Shimbun Business Head Office)

TEL

+81-86-803-8015 

URL
Soak in the well-known Tamatsukuri hot spring while enjoying the row of cherry blossom trees (Shimane)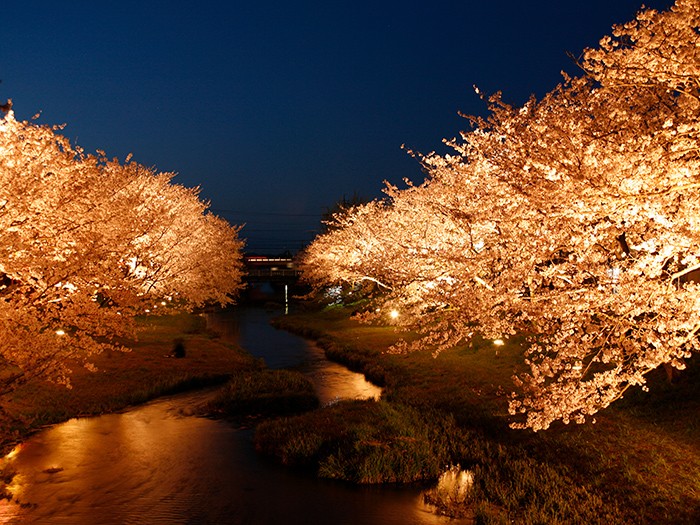 Tamatsukuri hot springs is known as Japan's oldest healing waters that were first sourced 1,300 years. The hot springs here are so superb that the saying goes, "Bathe in the waters of Tamatsukuri Onsen once and your skin will be rejuvenated; bathe twice and your illnesses will be cured." Tamatsukuri Onsen is one of Japan's most popular and prominent hot spring towns, and in the spring the Tamayu River flowing through it is awash in the pink of cherry blossom trees lining the riverbanks. Locals and visitors can enjoy this delightful scenery along with the Hanafubuki Hot Spring Festival held during the cherry blossom season. The river transforms into a mystical mood at night when the cherry blossoms are illuminated by paper lanterns. Taking a riverside stroll and gazing at the sakura reflected in the water's surface at night is a wonderful experience to enjoy after a relaxing soak in the hot springs.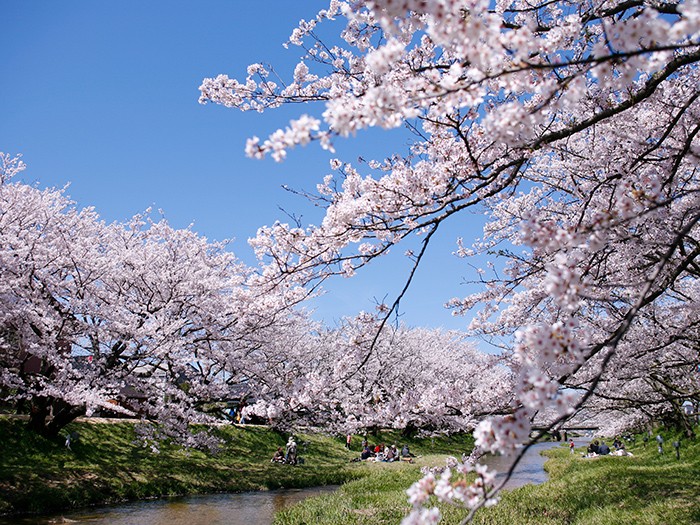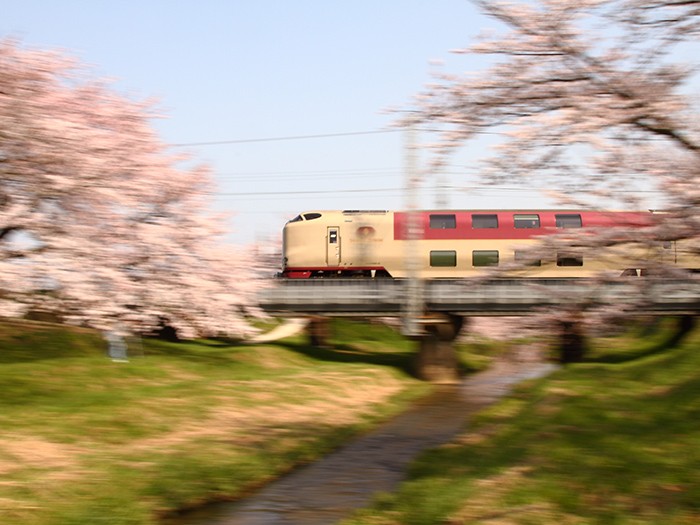 Tamayu River Cherry Blossom Trees
Address

Tamayu-cho and Tamatsukuri area, Matsue City, Shimane [Map]

Cherry blossom

Approx. 400 trees

Full bloom

From late March to mid April

Light up

For two weeks starting from when the cherry blossoms begin to bloom, 18:30 -22:30

Parking

50 cars

Access

Around a 5-minute walk from JR Tamatsukuri Onsen Station

Contact

Matsue Travel Association, Tamatsukuri Onsen Division

TEL

+81-852-62-3300

URL
Spring brings color to relics from Japan's Sengoku period at Shikanojoseki Park (Tottori)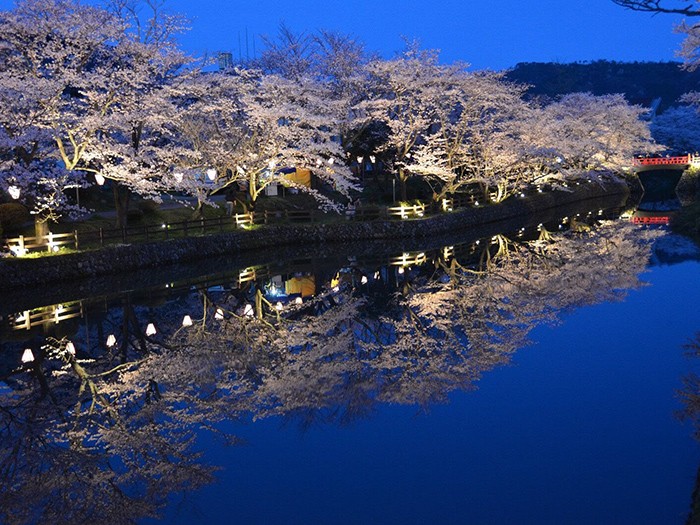 Shikano Castle was built by a warlord during Japan's Sengoku period. Relics of the castle's inner and outer moats and its walls can be found in the park that now covers the area where it once stood, giving visitors a sense of what the castle looked like then. In the spring, the pale pink hues of around 500 cherry blossom trees lining the water's edge bring color and elegance to the relics. Every two years the city holds the Shikano Festival featuring fireworks and other festivities. The townscape nearby the park captures the charm of Japan's castle towns in olden days, and the Japanese-style houses there are also excellent examples of traditional craftsmanship such as namaco-kabe walls covered with square tiles joined by raised plaster, and mushiko-mado windows featuring ultra-fine lattice. The famous Tottori Sand Dunes are only around 35-minutes away by car, so it's easy to see both attractions in one day.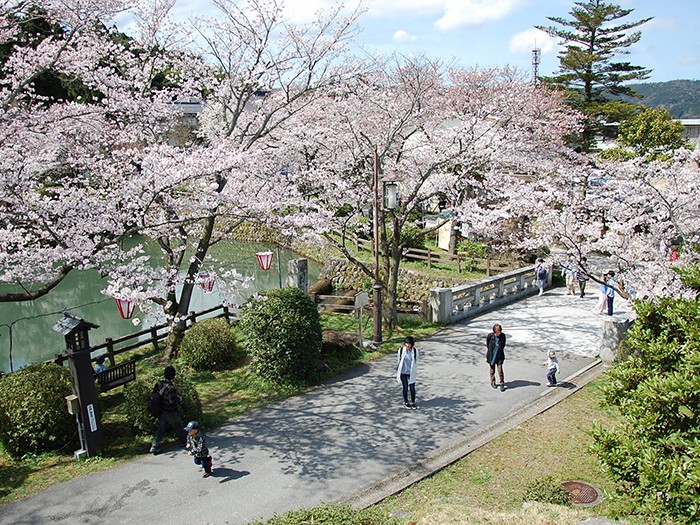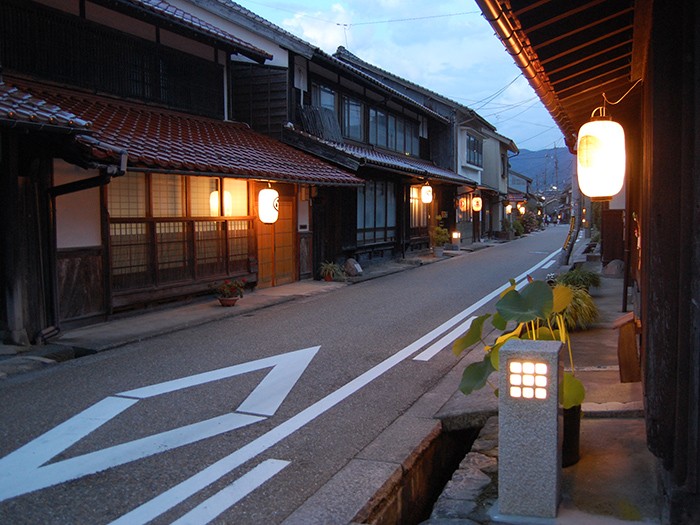 Shikanojoseki Park
Address

Shikano, Shikano-cho, Tottori City, Tottori [Map]

Cherry blossom

Approx. 500 trees

Full bloom

From late March to mid April

Light up

18:00-22:00

Parking

80 cars

Access

Around 15 minutes by taxi from JR Hamamura Station

Contact

Shikano Town Tourism Association (in the Tottori City Shikano Exchange Center)

TEL

+81-857-38-0030

URL
(This information is as of March 2018)